Aaron's Potato Kugel Recipe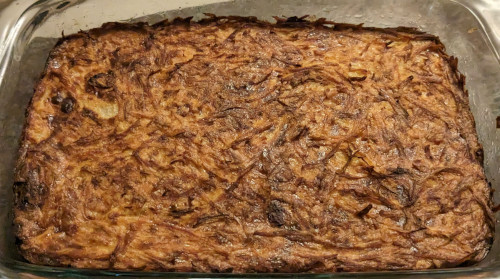 Potato Kugel is one of those dishes that everyone loves.
What's not to love about a shredded potato casserole that is baked until it's crispy on the bottom and top.
My mom did a great potato latke. Kugel was something that she'd buy at the local deli for Pesach.
They'd be served in these small aluminum takeout dishes.
Making them at home is a fair amount of work.
Between the shredding and baking, it's easily a couple of hours of work.
But it's worth it.
Here's Aaron's Potato Kugel.
Ingredients
| Ingredient | Amount |
| --- | --- |
| Potatoes | 5 or 6 |
| Onion | 1 |
| Eggs | 3 |
| Salt | 1/2 teaspoon |
| Black Pepper | To Taste |
Prep
Grate potatoes coarsely.
Grate onion finely.
Rinse grated potatoes
Then soak grated potatoes in ice water for 20 minutes.
Squeeze water from potatoes.
Mix in grated onions.
Add in eggs.
Stir in salt and pepper.
Place in glass casserole dish about 8 x 10.
Bake
Bake at 400F (205C) until crispy on top and bottom - about an hour.
Enjoy!!!
For history of this family, visit Emlekezik.com